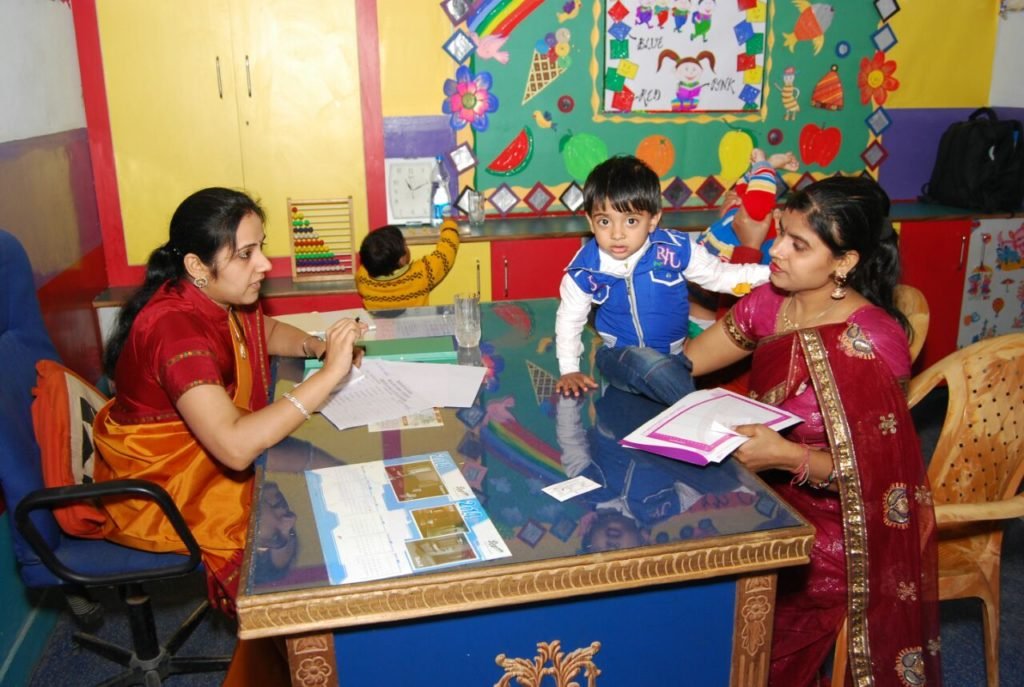 'Sarthak'...Giving meaning to lives
Sarthak Enkindling Hopes, established in 2006, is a center for children with special needs, founded by Dr Inchie Lonial (PT). Located at Meerut, India, it primarily offers Early Intervention services to babies and children who are potentially at a high risk for poor neurological outcomes. Early identification of neuro-developmental issues like autism, sensory processing issues, developmental delay and learning disabilities can help to address them at the right time. If the problems are left to worsen as the child grows, they begin to hamper daily functional life.

Dr Inchie Lonial completed a Masters' in Physiotherapy in Neurology, and began working with infants at the Neonatal Intensive Care Unit at Jaswant Rai Speciality Hospital, Meerut, headed by Dr Anuj Rastogi. These infants included the ones who had a delayed cry at birth, had breathing difficulty or distress soon after being born, were born extremely preterm or had developed a severe jaundice at a few days of birth. These babies had to be followed up periodically for early stimulation and physiotherapy, to prevent and minimize chances of disability. She further accomplished courses in Early Intervention (0 to 3 years), Early Childhood Special Education and then in Education of children with Learning Disabilities from the Rehabilitation Council of India, alongwith a number of trainings in Neurodevelopmental Therapy, Sensory Integration, Brain Gym, handwriting, phonics and Handle techniques. Now children's educational needs could also be taken care of, as many children are unable to attend schools due to the challenges faced. 
Dr Inchie Lonial also did a short-term course in Music Therapy, to incorporate its elements in Special Education and enhance speech and communication. Autism and Sensory Integration are her areas of special interest and expertise. Daily storytelling has always been an important part  of the  home  education plans given. Her belief in the power of storytelling motivated her to do a Course in Storytelling from Kathalaya's International Academy of Storytelling (University of Tennessee, USA),  after which Amaya's StoryLand was created. It offers Storytelling for ALL kids, irrespective of age and abilities.
Being a free lance writer by choice, Dr Inchie has penned a number of middles for newspapers, and poetry and health care articles for magazines. She's conducted numerous training workshops on Sensory Integration, Storytelling for parents of children with Autism, and Inclusive Education for schools. She received the 'Significant Contribution Award' from the Indian Association of Physiotherapists in 2015.
SARTHAK ENKINDLING HOPES got registered under The Trademarks Act, 1999 under Class 44 on January 10, 2013.
Frequently Asked Questions
Let's answer your queries
Here are some questions frequently asked by the parents.
Everyone Deserves to have a Healthy Smile
Kids with
learning
problems
Clinical Music Therapist and
Multi-Instrumentalist
Pediatric Physiotherapist, Special Educator and Storyteller
"Dr. Inchie is the best therapist in Meerut. I went for my kid's physiotherapy, within 3 months my son responded so well due the positive efforts and time given by Dr. Inchie. Very punctual about the appointment time, listens well and understands the problem and handles it in a very positive manner."
"Best place for children with developmental issues. Dr. Inchie Lonial is perfect in her field, she is very soft spoken. She is highly experienced and her plan for kids with developmental issues are very specific and fruitful. In her guidance and with her therapies and home plan our daughter developed a lot. God bless Dr. Inchie so that she continues to do good of kids and bringing hopes in parents life.
In short her clinic name is self explanatory."
"One of the best place in Meerut for all children having any developmental difficulties. Talking about Dr. Inchie Lonial Ma'am, she is very friendly, counsels well and make things very clear. I am associated with them for a number of months, and seen tremendous improvement in my son. A big thanks to Inchie Ma'am and her professional staff at all times."