We Support you, We empower you, We are with you!
Love make all things easy… Faith makes them all possible!
Every child matters… Keep hopes alive, Let faith grow, See miracles blossom!
Developmental Checklist for Infants and Toddlers
At 1 Month
Momentarily holds up head when supported.
Avoids slightly annoying sensations, such as cloth put on face.
Some "gurggling" sounds.
Raises head slightly off bed or floor when lying on stomach.
Briefly watches and follows object with eyes.
At 2 Months
 Vocalizes.
 Mimics or responds to smiling person with occasional smile.
Follows moving person with eyes.
Holds feet erect, bobbing, when supported while sitting.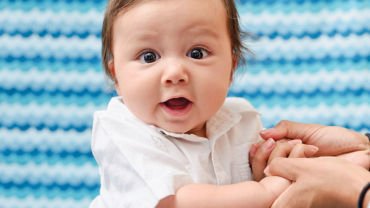 At 3 Months
Lifts chest and head when lying on stomach.
Recognizes breast or bottle.
Spirited body movement.
Chuckles, coos.
Improved head control.
At 4 Months
Rolls from side to side.
Follows moving object when held sitting.
Good head control.
Laughs.
May begin to reach.
Enjoys play.
Grasps object, such as rattle, held near hand.
At 6 Months
Rolls from back to stomach.
Moves object from hand to hand, hand to mouth.
Sits with little support.
Babbles more than two sounds.
At 9 Months
Sits by self.
Unwraps block.
Changes position without falling.
Says "mama," "baba" or "dada".
Plays with two objects at same time.
At 12 Months (1 Year)
Pulls self up, stands.
Gives toy on request.
Steps with support.
Displays affection.
Picks up things with thumb and one finger.
Follows simple directions with gesture.
Stacks two blocks.
May say two or more words.
At 15 Months
Walks without support.
Says four or five words.
Stacks three blocks.
Vocalizes, voice up and down, sounds like conversation.
Some feeding of self. .
Uses gestures to communicate.
At 18 Months
Walks, runs a little.
Marks with crayon on paper.
Climbs up or down one stair.
Partially feeds self.
Enjoys pull toys.
Says five to ten words.
Likes being read to.
At 24 Months (2 Years)
Kicks large ball.
Recognizes familiar picture, knows if upside down.
Turns pages, two or three at a time.
Asks for items by name.
Imitates housework.
Uses two or three words together, such as "Want blanket".
At 36 Months (3 Years)
Briefly stands on one foot.
Feeds self.
Walks up stairs.
Opens door.
Rides tricycle.
Verbalizes toilet needs.
Speaks in sentences
Sorts by shapes and colors.
At 4 Years
Gets along with people outside the family.
Draws circles and square.
Rides a tricycle.
At 5 Years
Tells name and address.
Jumps, hops, and squares.
Gets dressed
Counts 10 or more objects.
Process of Ordering your EBOOK
Make a payment of

Rs. 500

via Paytm or Google Pay to 9897967696.
WhatsApp us the payment screenshot along with writing 'Ebook' to 9897967696.